Watch and Learn
■ Size range: Wide range of sizes available; modular in nature.


■ Thermal output: Capable of producing both hot water and low-pressure steam.


■ Fast startup: Quick start-up capabilities are ideal for peaking or emergency back-up applications.

■ Black-start capability: In the event of a utility outage, engines require minimal auxiliary power requirements. 


■ Availability: Reciprocating engines are widest used technology in stationary power generation applications.
Need to enhance reliability and keep your business running? Tired of interruptions affecting your bottom line? Prepared for extended periods when grid power may not be available? We offer complete turnkey installations with no upfront capital required.
Looking to replace existing or install new units but lack available capital? We partner with leadnig manufacturers like Mitsubishi, John Deere, PSI and Volvo to meet even the most challenging environments -- all without using your capital.

The Small Business Administration estimates 75% of businesses not investing time or money in continuity planning will fail within three years of a natural disaster. 

From natural gas to diesel powered engines, we've got you covered complete with creative ownership and monetization strategies to offset installation costs.
Contact us today to schedule your initial assessment.
Email Us
.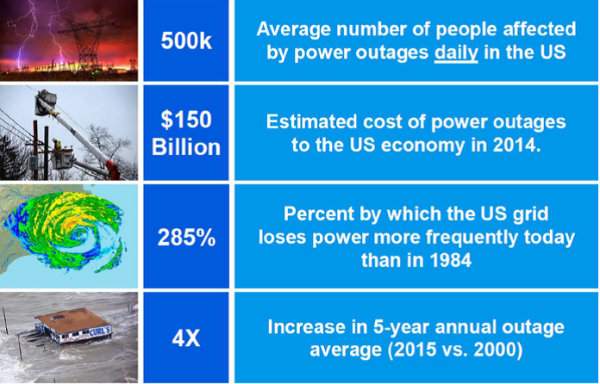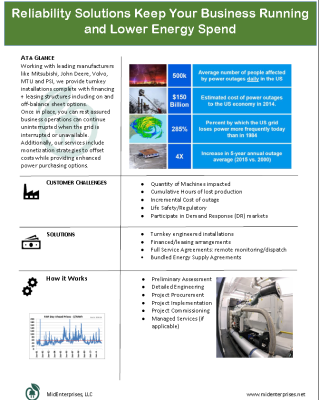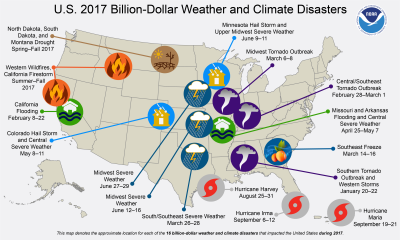 Business Challenges: 
Life Safety

Associated costs due to hours of lost production

Scrap costs due to interruption
Potential regulatory implications
Eligible to participate in Demand Response (DR) markets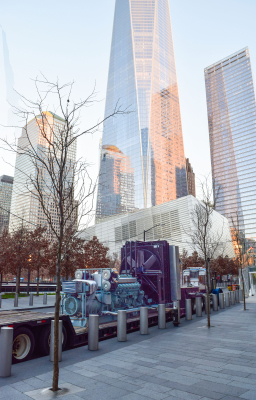 How it Works: 
Preliminary Assessment
Detailed Engineering
Project Procurement
Project Implementation
Project Commissioning
Managed & Monitoring Services
​​During 2017, the U.S. experienced a historic year of weather and climate disasters. In total, the U.S. was impacted by 16 separate billion-dollar disaster events tying 2011 for the record number of billion-dollar disasters for an entire calendar year. 
More notable than the high frequency of events was the cumulative cost, which exceeded $300 billion in 2017 — a new U.S. annual record. 
Are You Prepared? Request Self-Assessment Tool Today